Glass Rollaway Mirrors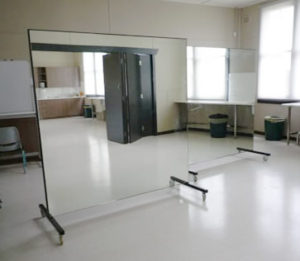 With manufacturing facilities currently in Auckland and Wellington, we can supply single or double sided rollaway mirrors, 1800mm x 1800mm or a height adjustable 2400mm x 1500mm landscape mirror. Both are designed to easily fit through standards doorways and their reverse sides can double as a pinboard or whiteboard on request.
Side by side these mirrors can create a continuous wall of mirror that can temporarily divide your room.
Glassless Rollaway Mirrors
Glassless Mylar Magic Mirror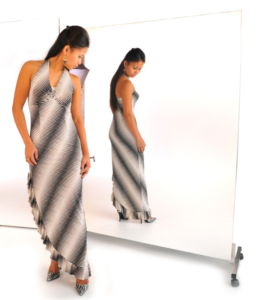 These Mylar Magic glassless mirrors are seriously cool, lightweight units and can simply roll away for storage. It has locking castors so it remains fixed when in position. With proper care these mirrors will give you years of use. Also available is a wool protective cover. An A4 sample can be purchased for $25.00 and this will be deducted from any subsequent purchase. At present we offer a range of sizes, with the 1830mm x 1525mm Fixed Angle Rollaway in Horizontal or Vertical alignment being the most popular configuration.
For more information download – Mylar Glassless Mirror.pdf